CLIVE CARROLL ( UK )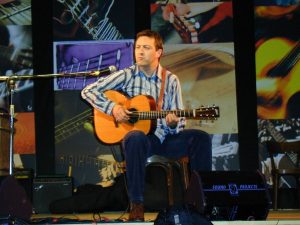 Diplomato in composizione al Trinity College di Londra ,è cresciuto in una famiglia con profonde radici musicali bluegrass e di Irish music. E' l'incontro con John Renbourn nel 1998 a incoraggiare questo precoce e geniale chitarrista acustico a pubblicare il suo primo solo cd , Sixth Sense, stimato dalla critica inglese come "una pietra miliare nel viaggio della chitarra acustica". Sempre Renbourn nel 2000 lo ha voluto per due anni consecutivi come supporter nel suo tour mondiale, che ha consacrato Clive come uno straordinario chitarrista capace di proporre esecuzioni finissime in grado di creare atmosfere calde e coinvolgenti. Oggi è uno più richiesti performer di chitarra al mondo e la sua fama è destinata a crescere sempre di più, come testimoniano artisti come Tommy Emmanuel e John Renbourn, che condividono molto spesso con lui festival e tour.
---
Clive Carroll was born in Chelmsford, England in 1975 and has been immersed in a diverse range of music ever since. Clive's father made him his first banjo in 1977 and a few years later he began to learn Bluegrass and Irish music. During his pre-teens Clive played banjo in the family band and by the age of eleven he had picked up the guitar. Throughout his teenage years, he also played at local venues in rock bands, funk & soul bands, a country group and several orchestras. In 1998, he gained a 1st Class Honours degree in Composition & Guitar from Trinity College, London. Throughout the college years Clive was also awarded many prizes including: John Halford Prize for Composition (1994), Gladys Puttick Memorial Prize for Extemporisation ('94,'98), Ivor Mairants Guitar Award (1997), Montagu Cleeve Prize for Guitar (1998) and Essex Young Musician of the Year (1999). Whilst at college, Clive was also awarded a concerto prize and recorded Rodrigo's 'Concierto de Aranjuez' with the Trinity orchestra.
In 1998, he was given the opportunity to play at his local pub with John Renbourn. That night Renbourn encouraged him to record a solo album, and finally in 1999 after playing a support to Chris Newman & Maire Ni Chathasaigh, Clive was given his first record deal by their Celtic label, 'Old Bridge Music'. His first solo CD, Sixth Sense received an unusually high level of attention from radio shows, reviewers and journalists and has since been described as 'a milestone in the journey of the steel-string guitar'. Over the next two years John Renbourn took Clive on tour all over Europe and America. In 2002 the BMG/RCA record label took an interest in Clive. He recorded solo for them on one album, which is still selling very well.
Over the past two years Clive has toured as a solo performer and he has also played alongside many great artists in the traditional Irish, acoustic, and pop/rock worlds. His long awaited 2nd solo album, The Red Guitar was released on 25 Nov 2004 and contains eleven original pieces as well as works by Gilbert Biberian & Wayne Shorter. In 2008 he realized a new album named Life in colour which has been celebrated by the press.
DISCOGRAFIA – DISCOGRAPHY
"Sixth Sense" is Clive Carroll's first solo CD
"The Red Guitar" Clive's long-awaited second solo album
DVD Live in concert Filmed at The Customs House, South Shields,UK
DVD Sound Techniques PAL video
"Life in colour", new album realized in 2008