MICHAEL MANRING (USA)
THE HOTTEST BASSIST TODAY !
FOLLOW THE ARTIST: 
In una settimana tipo, il bassista Michael Manring si potrebbe trovare ovunque tra un tour internazionale con la tastierista new age Suzanne Ciani, ad una esibizione in un avant-improv-core club con l'innovatore della chitarra Henry Kaiser, ad un festival folk con il celebrato trovatore John Gorka, ad una registrazione con il trio sperimentale post-metal "Attention Deficit" con Tim Alexander (Primus) e Alex Skolnick (Testament). "E' tutta musica" Michael alza le spalle quando gli viene chiesto come gestisce così tanti stili e generi differenti. "Trovo le somiglianze più avvincenti delle differenze e, in definitiva, io semplicemente amo suonare il basso". L'ovvio piacere che Michael trae dalla musica affascina, allo stesso tempo, pubblico e critici.
Lavorando sulle concezioni del suo maestro, l'ultima leggenda del basso Jaco Pastorious, Michael ha sviluppato un approccio interamente nuovo sullo strumento che include accordature, tecniche e metodologie non ortodosse. Ha dimostrato le sue capacità in più di un centinaio di registrazioni come musicista e migliaia di concerti in America, Europa e Asia. Una delle più gratificanti ed intime collaborazioni musicali è stata con il genio della chitarra acustica Michael Hedges, che ha istantaneamente stabilito una collaborazione musicale con Manring quando l'ha sentito suonare per la prima volta una delle sue fantasiose composizioni per basso mentre Manring era ancora un teenager. La tragica morte di Hedges nel 1997 mise fine ad una straordinaria alleanza musicale e ad una amicizia molto profonda. Attraverso Hedges, Manring è stato introdotto alla Windham Hills record dove è stato velocemente segnalato come (house bassist) e artista solista. I suoi 4 album da solista con la Windham Hill/gruppo BMG (Unusual Weather, Toward the center of the Night e Drastic Measures con la Windham Hill, Thank con la High Street) gli hanno valso la reputazione internazionale di "maestro di basso fretless senza rivali" (Guitar Club Magazine, Italia). Ha anche ottenuto due dischi d'oro, nomination ai Grammy e Bammie, un premio della Berklee School of Music e numerosi premi della Bass Players Magazine Reader's Poll, incluso il Bassista dell'Anno 1994.
Gli album Soliloquy e The Book of Flame sono ancora il migliore esempio della sua straordinaria creatività. Mentre i dischi dei suonatori di basso tendono ad avere la reputazione di essere musica strettamente legata ai fan del basso hardcore, gli album solisti di Michael hanno costantemente stupito gli ascoltatori con la loro profondità nelle composizioni e accessibilità. Dipinge una sorprendente varierà di suoni con lo strumento, portando uno scrittore a commentare: "Michael Manring può fare con un basso più di quanto l'individuo più creativo possa immaginare." (L. Pearce Carson, Napa Valley Register). Negli album la musica spazia da pazze costruzioni elettro-acustiche a intricate composizioni ensemble, a gentili assoli di elogio a Hedges. Attraverso fluidi virtuosismi, tonalità e ritmi esotici, bizzarri strumenti (e modi ancora più strani di suonarli), ombre di elettronica, industrial, post-bop, noise-core, ambient e (20th century music) con un approccio alla composizione raffinato e un sano senso dell'umorismo, crea un arazzo che è ricco di possibilità e significato.
---
IMAGES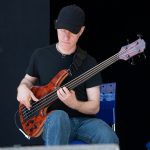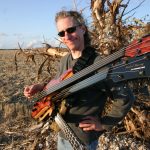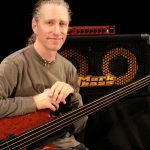 ---
MICHAEL MANRING SELECTED DISCOGRAPHY
With Alex de Grassi and Christopher Garcia
De man ia (Tropo records)
Solo Albums:
Unusual Weather (Windham Hill)
Toward the Center of the Night (Windham Hill)
Drastic Measures (Windham Hill)
Thonk (High Street)
The Book of Flame (Alchemy)
Soliloquy (Manthing Music)
with William Ackerman:
Past Light (Windham Hill)
Conferring with the Moon (Windham Hill)
Imaginary Roads (Windham Hill)
The Opening of Doors (Windham Hill)
Sound of Wind Driven Rain (Windham Hill)
with Altazor:
Concurrencia (Redwood Records)
with Darol Anger.
Heritage (Six Degrees)
with Darol Anger and Mike Marshall:
Chiaroscuro (Windham Hill)
with Enzo Avitabile:
Enzo Avitabile (EMI)
with Keola Beamer:
Dancers in the Land of Po (Dancing Cat)
with Kurt Bestor:
Sketches (BWE)
with Ken Bonfleld:
Homecoming (BWE)
Winternight (BWE)
with Evan Brubaker:
Third Floor (Cake)
with Suzanne Ciani and The Wave:
Live! (Seventh Wave)
with Barry Cleveland:
Volcano (Supersaturated)
with Cloud Chamber:
Dark Matter (Supersaturated)
with Larry Conklin:
Stranger World (Inak)
with April] Cope:
Two Moons (Acorn)
with Peppino D'Agostino:
Acoustic Spirit (Shanachie)
with D'Cuckoo:
Umoja (RGB)
with Jim Farrand:
3am on a Tuesday (Cake)
with Paolo Giordano:
Paolo Giordano (Step Musique)
Kid in a toy's shop (Step Musique)
with John Gorka:
Jack's Crows (High Street)
Temporary Road (High Street)
Out of the Valley (High Street)
Between Five and Seven (High Street)
After Yesterday (Red House)
with Michael Hedges:
Breakfast in the Field (Windham Hill)
Aerial Boundaries (Windham Hill)
Watching My Life Go By (Open Air)
Live from the Double Planet (Windham Hill)
Taproot (Windham Hill)
Oracle (Windham Hill)
with Rob Young:
Sticks and Stones (Imaginary Road)
with Danny Helnes:
One Heart Wild (Silver Wave)
with various artists:
An Evening with Windham Hill Live
A Winter's Solstice II (Windham Hill)
A Winter's Solstice III (Windham Hill)
Windham Hill Guitar Sampler II (Windham Hill)
A Winter's Solstice V (Windham Hill)
A Winter's Solstice V (Windham Hill)
A Winter's Solstice Vi (Windham Hill)
Bass Player Magazine Fifth Anniversary CD (BP)
The SWR Sound (SWR)
The Carols of Christmas (Windham Hill)
A Very Green Christmas (Seventh Wave)
Summer Solstice (Windham Hill)
A Winter Solstice Reunion (Windham Hill)
Thanksgiving (Windham Hill)
With Barbara Higbie:
Signs of Life (Windham Hill)
with Henry Kalser and Wadada Leo Smith:
Yo Miles! (Shanachie)
with Patty Larkin:
Tango (High Street)
Angels Running (High Street)
Perishable Fruit (High Street)
with Mike Marshall:
Brasil Duets (Earthbeat)
with Monks of Doom:
Forgery (IRS)
with Montreux:
Sign Language (Windham Hill)
Let Them Say (Windham Hill)
with Holly Near:
Sky Dances (Redwood)
with Carlos Reyes:
The Beauty of it Ali (TBA)
with Sadhappy:
Good Day, Bad Dream (Periscope)
with Tadamltsu Salto:
A Perfect Match (Access Music)
It's About Time (Access Music)
with Schonherz and Scott:
Under a Big Sky (Windham Hill)
with Richard Schonherz:
A Different Mozart (imaginary Road)
with Alex Skolnlck and Tim Alexander:
Attention Deficit (Magna Carta)
with the Skol Patrol:
The Skol Patrol (Gray Streak)
with Douglas Spotted Eagle:
Closer to Far Away (Windham Hill)
Pray (Higher Octave)
with Turtle island String Quartet:
By the Fireside (Windham Hill)
with Trapezold:
Moon Run (Narada)
with Kym Tuvim:
Kym Tuvim (Cake)